Smart functionalities for glass structures
Sophisticated design vor challenging technical requirements

Versatile glass wing combination flaps with smart rain-proof-ventilation (RPV) system 

Available with glass or polycarbonate


Draco – also available as standalone device: Draco-star
Sophisticated design for challenging technical requirements
As approved SHEV unit, Draco-vent combination wings were designed for ridge-shaped rooflights, like Skyline and the daylight system Shedline. Draco-vent is available as glass combination wing section |1| or glass single-wing section |2|.

Also with pyramids and other glass building structures Draco-vent fulfills the technical requirements for an optimised ventilation and fire protection.
Draco-vent successfully provides an optimised solution for the requirement of a reliable rain-proof-ventilation and creating the largest possible smoke extraction area.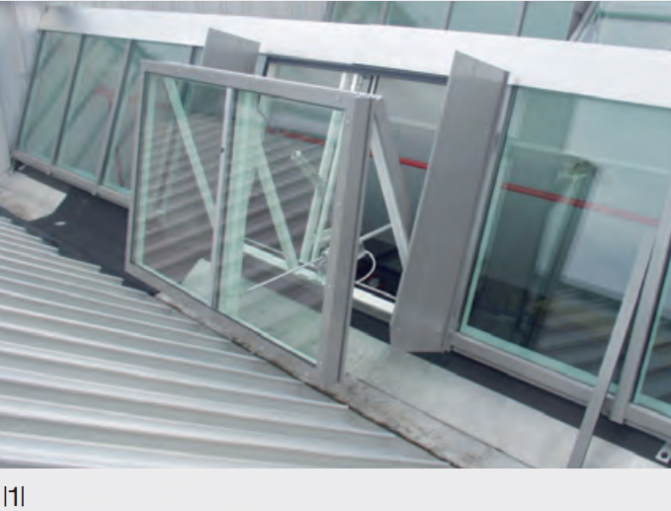 Variable ventilation and rain-proof-ventilation technology
Conventional glass wing sections with only an upward opening ventilation function can be used as a SHEV unit and for daily ventilation. However when used for ventilation there is the risk of rain entering while the flap is in closing mode.
Draco-vent successfully provides an optimised solution to ensure reliable rain-proof-ventilation. Daily 'comfort ventilation' can take place by opening the flap at the bottom. At the same time, the opener cross-beam is designed in such a way that, in the event of a fire, it can open at the top effectively and create the largest possible smoke extraction area. 
VdS-approved according to DIN EN 12101-2
INDU LIGHT designs, supplies and installs individually dimensioned SEV units. We are a specialist business certified according to ISO 9001:2000, a VdS-approved constructor company and an active member of the trade association Tageslicht und Rauchschutz e.V.
The CE approval of our products was carried out by VdS institute for fire protection and security.
Proven pneumatic technology or 24V technology are available for our SHEV devices.
Beside standard design principles of smoke and heat exhaust units we also consider the standards and guidelines including:
DIN 18232
VdS guidelines
Industrial building directives
VDI 3564
TRVB S 125
Technical details for Draco-vent
Used purely as a ventilation flap, Draco-vent can be configured to almost any desired set of dimension. 
The values quoted below relate to reference natural smoke and heat exhaust units (NSHEV), defined in DIN EN 12101-2 or SHEV units in combination with natural ventilation.
| | Dimensions (m) | Aa (m2) |
| --- | --- | --- |
| pneumatic CO2 (PC) | 1,00-2,00 x 1,00-2,50 | 0,65-3,25 |
| elektrical 24 V (Glas) | 1,00-1,50 x 1,00 | 0,54 - 0,81 |
Accessories for Draco-vent
Intelligent control technology integrated in the  building automation system. Drive technologies are available as pnestumatic and electric solution.
Service and professional maintenance
As manufacturer and approved supplier of SHEV systems INDU LIGHT performs regular maintenance. Our professional service technicians verify that SHEV devices and systems are in order and fully functional. The records of the inspections performed are stored and managed by INDU LIGHT. 
By law SHEV systems must be maintained at legally defined inspection intervals. Contact us – we will schedule and arrange maintenance on time.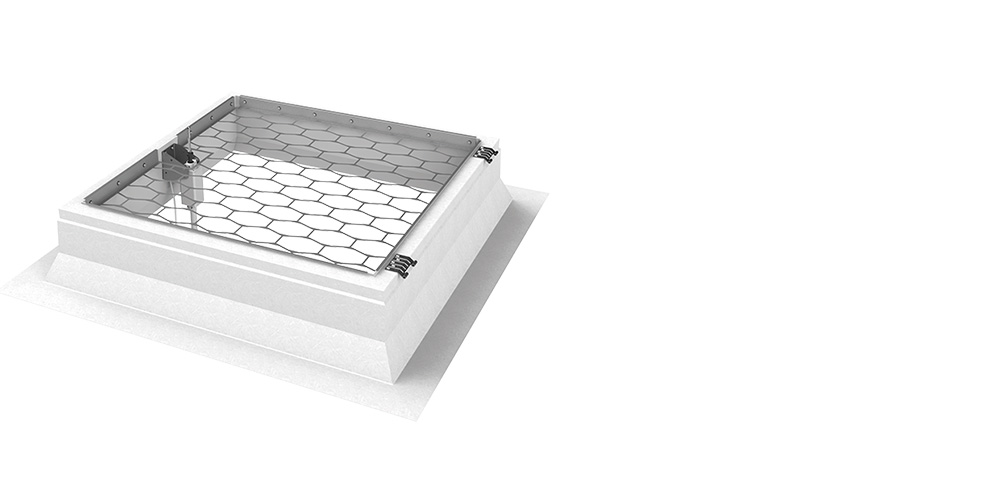 Fall and fall-through protection
Continuous rooflights and light domes without structural features to render them permanently fall-through proof must include suitable covers or suspended structures which prevent individuals from falling through. INDU LIGHT protective systems are available for continuous rooflights and light domes and can be retrofitted onto all current INDU LIGHT products.
Contact us! We answer your questions about daylight systems, rehabilitation and maintenance.