Motorised smoke extraction for complex building geometry
 Targeted motorised extraction of fire areas
Versatile device types
Vertical or horizontal installation position or in channel systems
Device tested in accordance with DIN EN 12101-3
Also available integrated in continuous rooflight : Taurus-vent
Smoke extraction at the touch of a button
Motorised smoke extraction systems serve the purpose of extracting the hot smoke gases from a defined section in the event of fire, to achieve a low-smoke layer which enables the rescue of personnel and fire extinguishing. Furthermore, Taurus is also used in multi-storey buildings which cannot be equipped sufficiently with natural smoke extraction systems. The Taurus ventilator, driven by three-phase motors, combines a high level of performance with low energy consumption.
Combination creates more functionality
Taurus can be employed horizontally in the ceiling or continuous rooflight, vertically in the wall or also in duct systems. The shape, size and extraction capacity of the device will be designed depending on the requirements. In combination with the natural ventilation devices such as Leo, Draco or Lyra, the system can be used for daily ventilation with the fan at a standstill with no energy usage. For rain-proof ventilation, INDU LIGHT offers RPV technology (rain-proof ventilation) in the Virgo multi-purpose ventilator and Hydra labyrinth ventilator The exhaust air volume flow is increased considerably by the variable switching of the Taurus ventilator.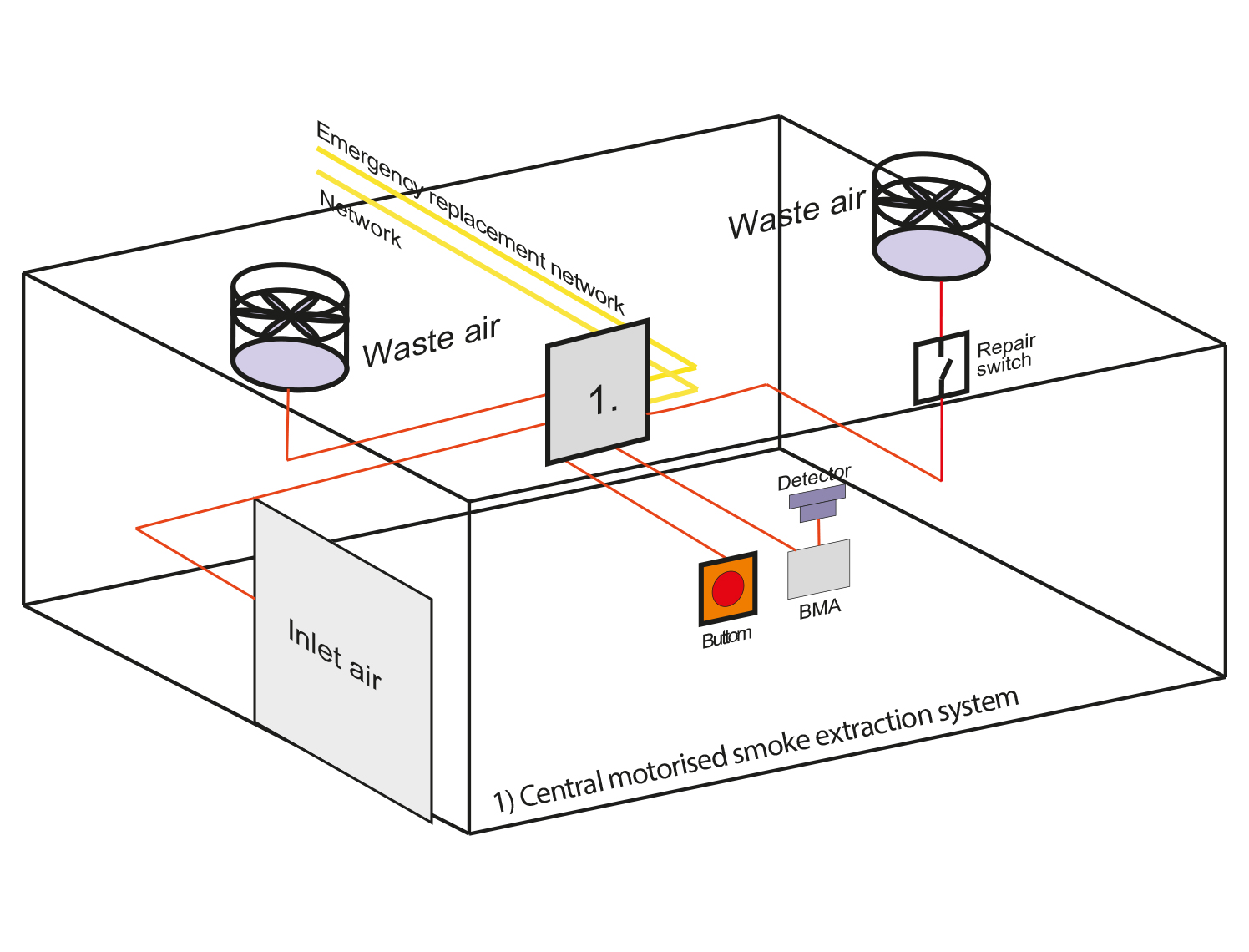 Competent implementation of fire prevention concepts
Triggered by automatic early fire detection elements, smoke alarms and manual alarm buttons as well as externally by fire alarm systems, the central control system switches the ventilators on. At the same time, the essential air intake will be opened automatically via a switch contact and the mode of action of the Taurus system will be guaranteed. INDU LIGHT supplies the Draco, Leo and Lyra products for the tracking of the supply air.
Individual safety
In accordance with the new Model Industrial Buildings Directive (MIndBauRL), motorised smoke extraction is accorded a significantly higher level of importance. INDU LIGHT provides systems in the 0, 300 or 600 degrees temperature classes depending on the application, in accordance with DIN 18232-6 and EN 12101-3 Flue gas ventilators are subject to an inspection in accordance with DIN EN 12101-3 as a permitted component in accordance with German Institute for Construction Technology (DIBt) and the Building Rules List B (Bauregelliste B).

Stainless steel suction grill Lyra-star
Technical details for Taurus-vent
| | |
| --- | --- |
| Only ventilator  | |
| Diameter | 315 - 1600 mm |
| Air performance | 1,000 - 200,000 m3/h |
| Temperature classes | 0°, 300°, 600° |
| Voltage | 400 V, 50 Hz |
| Power | 0.75 - 55 kW |
Accessories for Taurus-vent
Sound insulation in accordance with regulations.
Intelligent control technology integrated in the  building automation system. Drive technologies are available as pnestumatic and electric solution.
Contact us! We answer your questions about daylight systems, rehabilitation and maintenance.