Ventilation and smoke extraction for roof and wall
Various applications

Approved full-through protection

Sets new standards for exceptional snow loads

Leo – also available as standalone device: Leo-star

Variaous applications
With 100 approved unit sizes for installation on roofs and walls Leo-vent is the ideal solution for ventilation and smoke extraction requirements.
Leo-vent can be used in the facade as ventilation device |1|. It can be used in shed rooflights like the INDU LIGHT Shedline |2| or can be integrated in ridge-shaped rooflights such as the INDU LIGHT Skyline |3|.  Also in its curved forms, Proline and Topline ELS, installation is possible, for example as a double flap |4|.
Approved fall-through protection and increased snow load
Steel mesh grids can be added and with only minor additional design modifications Leo-vent complies with the requirements of ETAG 010, DIN EN 14963, DIN 4426 as well as GS-Bau-18 and the Swiss SUVA standard. The result is an approved and guaranteed fall-through protection. 
(Under the precondition that maintenance intervals have been followed and installation has been performed by qualified staff)

Leo-vent sets new standard for exceptional snow loads
Leo-vent sets new standards for opening forces for increased snow loads, exceeding 500 N/m2. Tested and approved according EN 12101-2 several standard sizes are available.
VdS-approved according to DIN EN 12101-2
INDU LIGHT designs, supplies and installs individually dimensioned SEV units. We are a specialist business certified according to ISO 9001:2000, a VdS-approved constructor company and an active member of the trade association Tageslicht und Rauchschutz e.V.
The CE approval of our products was carried out by VdS institute for fire protection and security.
Proven pneumatic technology or 24V technology are available for our SHEV devices.
Beside standard design principles of smoke and heat exhaust units we also consider the standards and guidelines including:
DIN 18232
VdS guidelines
Industrial building directives
VDI 3564
TRVB S 125
Tecnical details for Leo-vent
Used purely as a ventilation flap, Leo-vent can be configured to almost any desired set of dimension.
The values quoted here relate to reference natural smoke and heat exhaust units (NSHEV), defined in DIN EN 12101-2 or SHEV units in combination with natural ventilation.
Single Wing
| | Dimensions (m) | Aa (m2) |
| --- | --- | --- |
| pneumatic CO2 | 1,00-2,00 x 1,00-2,50 | 0,75 - 3,75 |
| elektrical 24 V | 1,00-1,50 x 1,00-2,50 | 0,54 - 2,66 |
Intelligent control technology integrated in the  building automation system. Drive technologies are available as pnestumatic and electric solution.
Service and professional maintenance
As manufacturer and approved supplier of SHEV systems INDU LIGHT performs regular maintenance. Our professional service technicians verify that SHEV devices and systems are in order and fully functional. The records of the inspections performed are stored and managed by INDU LIGHT. 
By law SHEV systems must be maintained at legally defined inspection intervals. Contact us – we will schedule and arrange maintenance on time.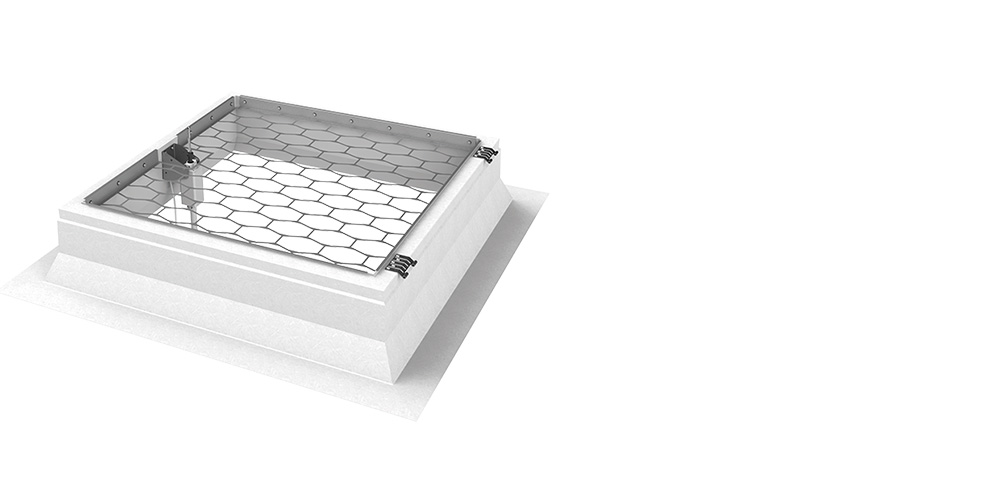 Fall and fall-through protection
Continuous rooflights and light domes without structural features to render them permanently fall-through proof must include suitable covers or suspended structures which prevent individuals from falling through. INDU LIGHT protective systems are available for continuous rooflights and light domes and can be retrofitted onto all current INDU LIGHT products.
Contact us! We answer your questions about daylight systems, rehabilitation and maintenance.