Traditional shape with state-of-the art technology
Long-lasting and economical
Shedline ELS – energy efficiency that points the way forward
Integrated photovoltaic system
Shedline glass – proven stick construction

The continuous rooflight system for an optimized energy balance
Economical and durable
Shed roofs exist since the beginning of the first industrial revolution. The advantages back then were, and still are, glare-free and uniform illumination of big factories and the typical north-facing orientation of the glazing.
INDU LIGHT applies the highest quality standards for the selection of materials. This enables us to offer a proven product with state-of-the art materials which is durable and economical.

Shedline ELS – trendsetting energy efficiency
Shedline is also available as an option in its innovative ELS version. This newly developed continuous rooflight, the Shedline ELS, makes it possible to achieve excellent thermal insulation values of 1.4 to 0.7 W/m2K.
Photovoltaic system
Intelligent profile systems make it possible to install photovoltaic (PV) systems on the south-facing side of Shedline continuous rooflights. Substructures for most commonly available PV systems on the market can be ordered together with Shedline continuous rooflights. 
Shedline glass – proven stick construction
Shedline glass is created using a stick system with a proven track record extending back over decades, made from aluminium and capable of being installed at an inclined angle of 0° to 90° to form type-tested combination wing sections, meeting all requirements for a tested natural smoke extractor unit compliant with the EN 12101-2 standard.
The combination wing section permits efficient smoke extraction when opened from the top and simple ventilation when opened from the bottom – even during bad weather.
Shedline Glas wird mit einem seit Jahrzehnten bewährten Pfosten-Riegel-System aus Aluminium realisiert und kann mit einem im Einbauwinkel von 0° bis 90° zugelassenen Kombiflügel komplettiert werden, um allen Anforderungen an eine geprüfte natürliche Rauchabzugsanlage nach EN 12101-2 gerecht zu werden.
Der INDU LIGHT Kombiflügel mit seiner rain-proof-ventilation (RPV) Technologie ist einzigartig. Er ermöglicht nach oben öffnend effizienten Rauchabzug und nach unten öffnend einfache Lüftung – auch bei schlechtem Wetter.

Technical details for Shedline
| | Shedline | Shedline ELS | Shedline Glas |
| --- | --- | --- | --- |
| Utotal W/m2K | 1,5 - 0,9 | 1,4 - 0,7 | 1,3 - 0,8 |
| Shading | inside/outside | ELS sunbloc can be integrated | inside/outside |
| | | | |
| | | | |
| | | | |
| | | | |
Usouth side (W/m2K): 0,58 - 0,22
Unorth side (W/m2K): 2,5 - 0,7
Soundproofing value: up to 33 dB north side (glazing). Up to 25 dB south side (glazing)
Construction materials class: B2 non-burning dripping (standard), B1or A1 (optional)
Hail protection class: Standard HW3, optional HW5
Fall-through protection: during installation (standard), permanent (optional)
Light transmission: depending on daylight calculation   
Smoke and heat exhaust ventilators
Leo Vent – our stand alone flap for your individual application.
The INDU LIGHT glass wing combines the technical requirements for optimum ventilation and fire safety with high-end design standards. In addition to glass, multiwall polycarbonate  sheets (PC) can also be selected for the glazing. In the form of a combination wing, it guarantees the greatest possible level of rain-protected ventilation as well as the largest possible smoke extraction area.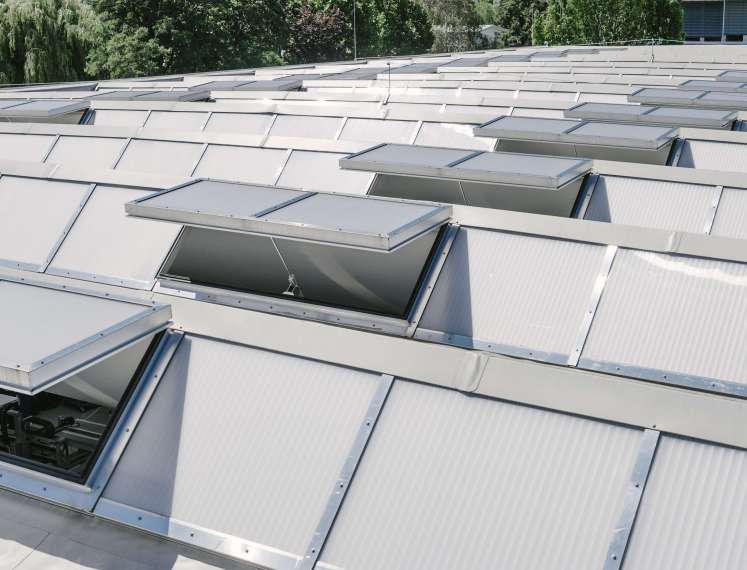 Lyra – louvered ventilator integrated in the continuous rooflight. Natural ventilation and active smoke control functions are available.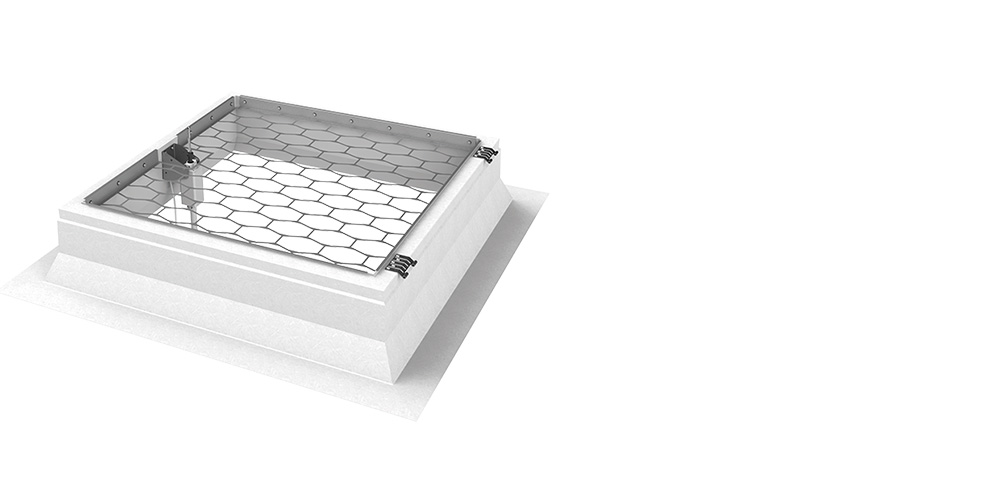 Fall and fall-through protection
Continuous rooflights and light domes without structural features to render them permanently fall-through proof must include suitable covers or suspended structures which prevent individuals from falling through. INDU LIGHT protective systems are available for continuous rooflights and light domes and can be retrofitted onto all current INDU LIGHT products.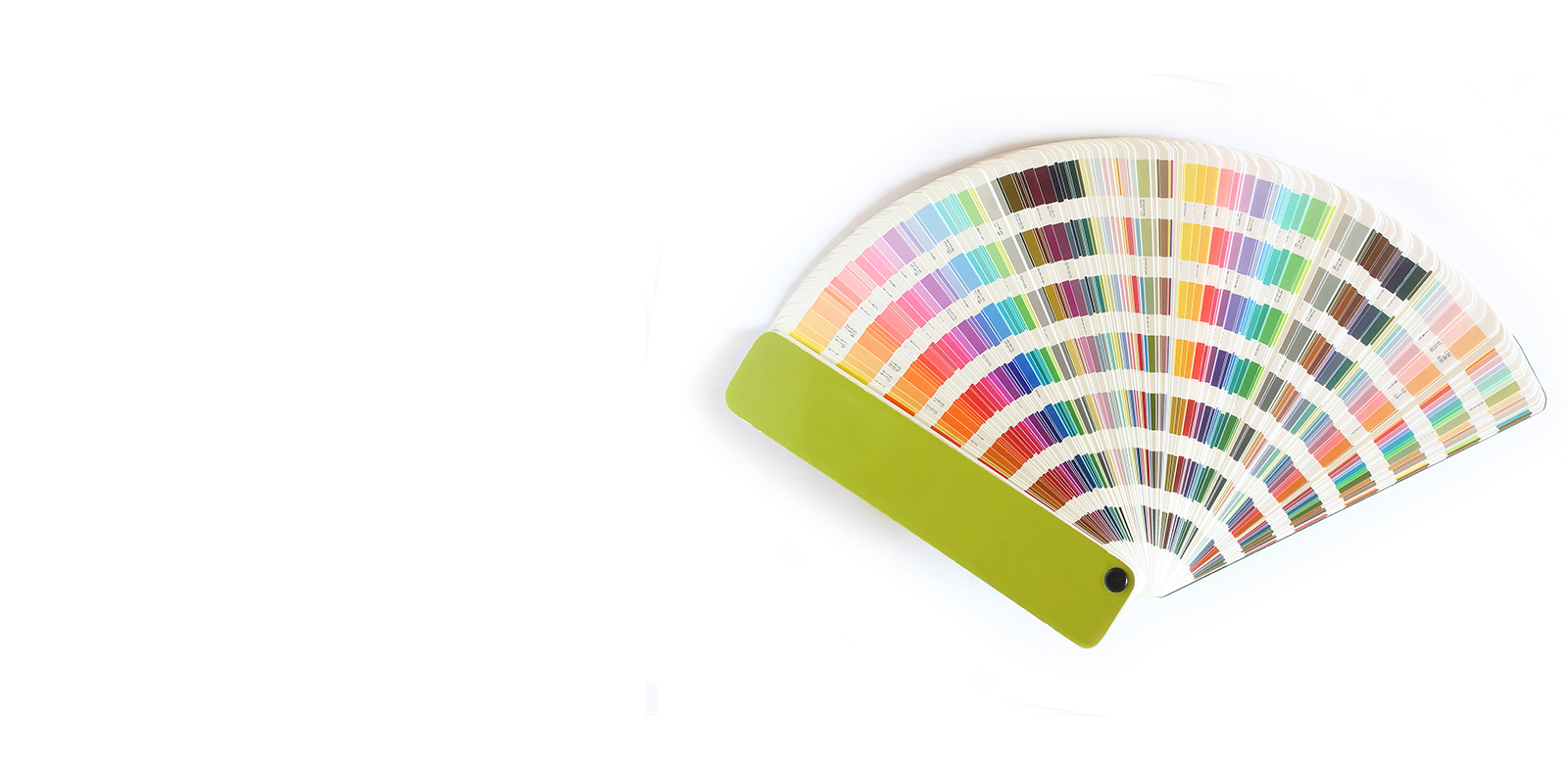 RAL coating
On request, all aluminium profiles can be supplied in RAL colours, according DB colour chart, or other commonly used systems. Available coating types are sustainable standard powder coating,  seawater-proof coating or anodizing.
Contact us! We answer your questions about daylight systems, rehabilitation and maintenance.