Virgo – the multi-purpose device for all weather conditions
Easy-to-handle insect protection 
Guaranteed dry and wet weather ventilation through RPV-technology
Virgo – multi-purpose ventilator also available as standalone device: Virgo-star
Expression integrated in continuous rooflights
Expressive in design and flexible in configuration.
Virgo-vent can be integrated in continuous rooflights, like shed rooflights Shedline,  ridge-shaped rooflights Skyline and barrel vault and curved forms, Proline and Topline ELS |1|.
Virgo-vent_Z combines high standards of thermal insulation with an appealing design. Virgo-vent_I is the simplified basic industry version with identical technical values. 
Whenever exhaust air or heat needs to be dissipated independent from weather conditions the multi-purpose
ventilator Virgo-vent is the preferred solution.
Both versions have been VdS-tested and meet the requirements of EN 12101-2.

Approved and scalable
Used purely as a ventilation flap, Virgo-vent can be configured and is scalable to almost any dimension.
If an approved smoke and heat exhaust device (SHEV) in compliance with EN 12101-2 is required the following dimensions are available: 1.20 x 2.50 m, 1.80 x 2.50 m and 2.50 x 2.50 m. Special dimensions are available on request.
Easy-to-handle insect protection
Insect protection systems from INDU LIGHT are used primarily in sectors where hygiene is a priority, for example in the food industry. The insect protection system can be adapted to fit to all our multi-purpose ventilators and is quick and easy to retrofit.
Similar to a drawer the removal and installation for cleaning purposes is very simple. No special tools are necessary to access and handle the insect protection.
Your personal contact partner
VdS-approved according to DIN EN 12101-2
INDU LIGHT designs, supplies and installs individually dimensioned SHEV units. We are a specialist business certified according to ISO 9001:2000, a VdS-approved constructor company and an active member of the trade association Tageslicht und Rachschutz e.V.
The CE approval of our products was carried out by VdS institute for fire protection and security. Proven pneumatic technology or 24V technology are available for our SHEV devices.
Beside standard design principles of smoke and heat exhaust units we also consider the standards and guidelines including:
DIN 18232
VdS guidelines
Industrial construction directive
Technical details for Virgo-vent
| | Dimensions (m) | Aa (m2) |
| --- | --- | --- |
| pneumatic CO2 | 1,20-2,50 x 2,50 | 1,95 - 4,063 |
| electrical 24 V | 1,20-1,50 x 2,50 | 1,95 - 2,438 |
Accessories for Virgo-vent
Intelligent control technology integrated in the  building automation system. Drive technologies are available as pnestumatic and electric solution.
Service and professional maintenance
As manufacturer and approved supplier of SHEV systems INDU LIGHT performs regular maintenance. Our professional service technicians verify that SHEV devices and systems are in order and fully functional. The records of the inspections performed are stored and managed by INDU LIGHT.
By law SHEV systems must be maintained at legally defined inspection intervals. Contact us – we will schedule and arrange maintenance on time.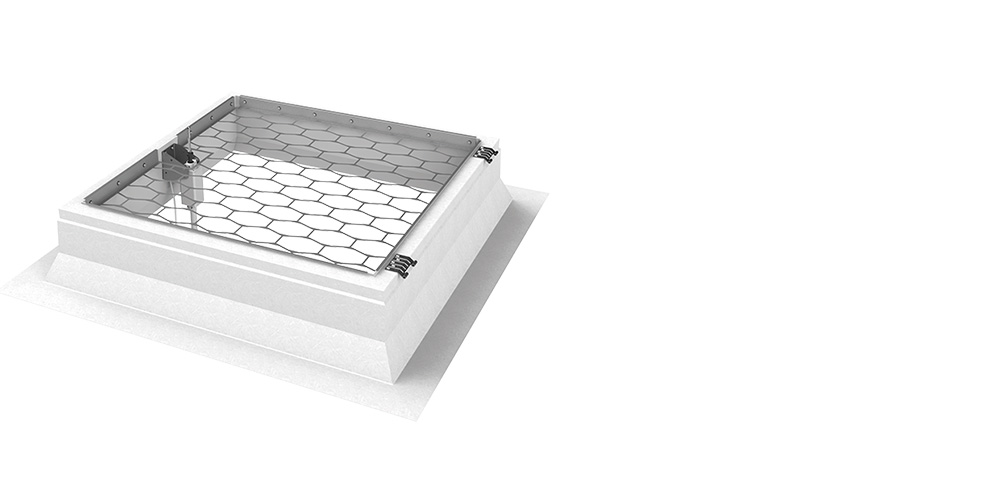 Fall and fall-through protection
Continuous rooflights and light domes without structural features to render them permanently fall-through proof must include suitable covers or suspended structures which prevent individuals from falling through. INDU LIGHT protective systems are available for continuous rooflights and light domes and can be retrofitted onto all current INDU LIGHT products.
Contact us! We answer your questions about daylight systems, rehabilitation and maintenance.