Premium roof light with SHEV functionalities
Standalone glass rooflight with variable dimension and angles

Superior design for challenging requirements

Thermal protection

Exceptionally torsion-resistant

Available with glass and polycarbonat

Also available integrated in the continuous rooflight: Draco-vent
Excellent design for challenging technical requirements
The durable lighting system has been designed to fulfill highest requirements on quality and design. Draco-star with its open clear view to the sky creates a modern and balanced room climate. Rooms appear bigger and more open.
The wing element is made out of extruded aluminium profiles which are thermally protected thus provide excellent thermal insulation characteristics and are exceptionally torsion resistant. Heat extension according DIN 18008 of the variable glass thicknesses is compensated by a three-layer sealing system. By using  The external glazing
Single-glazed safety glass (ESG) used for the external layer and composite safety glass (CSG) for the inner layers ensures fall-through protection. Excellent soundproofing values and the highest possible hail resistance class 5 complete the package of superior characteristics of Draco-star.
Draco-star is ideal for office buildings, living areas and buildings with similar requirements.
Technical details for Draco-star
Nominal values (cm):
50 x 150, 60 x 90, 70 x 140, 80 x 80, 90 x 90, 
100 x 100, 120 x 120, 100 x 150, 150 x 150, 
180 x 150 (double glazing), 100 x 200 (double glazing)
(individual dimensions and shapes available on request)
Double glazing: 
Float/CSG, optional: ESG/CSG or tinted glass
INDU LIGHT Glass rooflight: 
Double glazing Utotal: 1,1 W/m2K
Triple glazing Utotal: 0,7 W/m2K
sound reduction: 37 dB
Paint coating: Pure white RAL 9010, optional: RAL colours
Rigid glazing version: 
Optional: ventilated, concealed chain drive / ventilated, integrated chain drive
The glass rooflight Draco-star consists of a wing element and an upstand and can be supplied as a rigid structure and as a ventilated unit.
Accessories for Draco-star
Intelligent control technology integrated in the  building automation system. Drive technologies are available as pnestumatic and electric solution.
Service and professional maintenance
As manufacturer and approved supplier of SHEV systems INDU LIGHT performs regular maintenance. Our professional service technicians verify that SHEV devices and systems are in order and fully functional. The records of the inspections performed are stored and managed by INDU LIGHT.
By law SHEV systems must be maintained at legally defined inspection intervals. Contact us – we will schedule and arrange maintenance on time.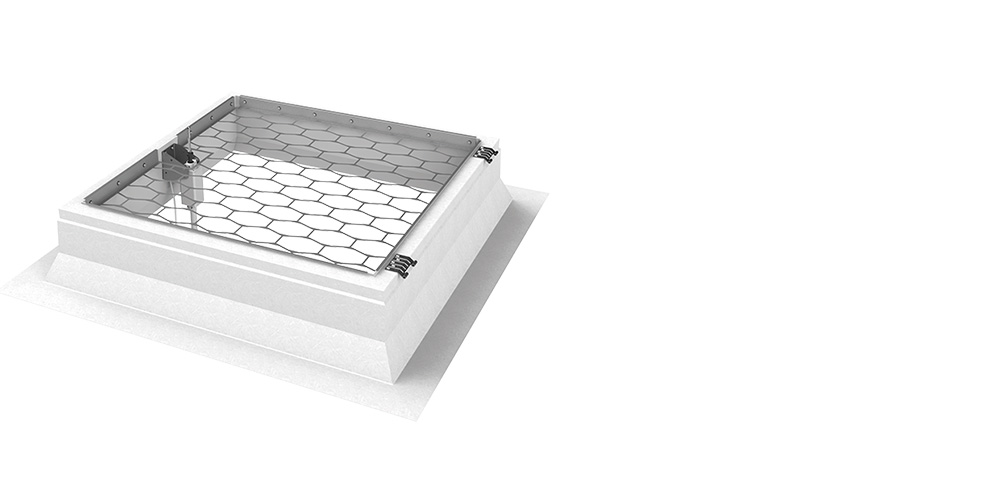 Fall and fall-through protection
Continuous rooflights and light domes without structural features to render them permanently fall-through proof must include suitable covers or suspended structures which prevent individuals from falling through. INDU LIGHT protective systems are available for continuous rooflights and light domes and can be retrofitted onto all current INDU LIGHT products.
Contact us! We answer your questions about daylight systems, rehabilitation and maintenance.